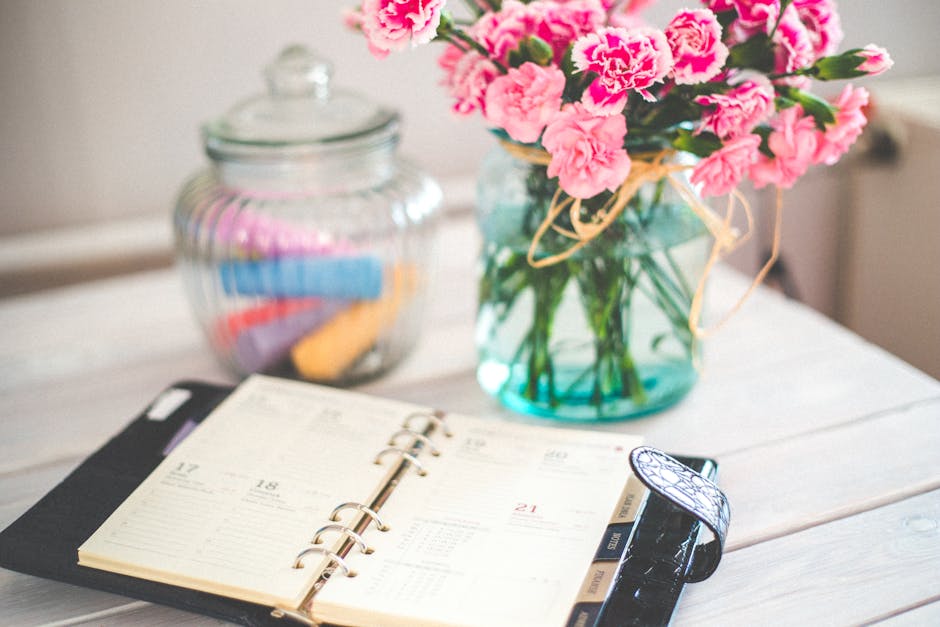 One of the biggest challenges for many people in college is keeping everything organized.  There are so many things to juggle: academic classes, extracurriculars, campus events, jobs, homework, workouts, friends, spiritual life, keeping up with family, pursuing hobbies and relaxing…
As my advisor told me the other day, learning to manage time is the single most important element for succeeding in college. And it can be overwhelming. But I've figured out a system that works really well, and honestly is very simple, which I'm going to share with you today. This is what I do to stay on top of everything that's important to me.
My organizational system is guided by this one major principle: immediately write everything down in one place. 
Get a planner. This can be physical or electronic.
Every time you commit to something, schedule something, find out about a deadline, or think of something you need or want to do, write it down in there immediately. You will develop your own system for how you organize this information. But the biggest thing is to get it written down.
Then, when you're trying to plan your day, you won't have to worry about forgetting things or having random sticky notes scattered around your dorm. It will all be there.
This doesn't mean you won't ever forget about something or leave it to the last minute, but if you can form this one simple habit it will go a long way toward your organization.
So, what does this look like in my life?
My Planner
I currently use a Day Designer planner. I've tried both paper planners and electronic ones, and while the electronic ones are more convenient in some ways, I just prefer writing things down on physical paper. I've also tried Erin Condren (excellent but very expensive) and Plum Paper (also really good, slightly cheaper). My planner is where I write down scheduled events, deadlines, and miscellaneous to-dos.
I cheat a little bit from my own rules and actually have two places that I write things down, because I also use Powersheets, a Christian goal planner that guides you through goal-setting at the beginning of the year and then at the beginning of each month. I use this for long-term goals that don't have set deadlines, which I then transfer into my daily to-do lists in my actual planner.
My Planning System
First of all, at the beginning of the semester, I wrote down every single assignment or test from every syllabus on the day it was due in my planner. I definitely recommend doing this immediately; that way you don't have to keep checking back to your syllabus if you forgot what things are due.
At the beginning of the month, I do the following:
Fill out my Powersheets for the month. This is how I keep track of the goals that are important to me but don't have upcoming deadlines (writing and other creative pursuits, health and spiritual growth, etc.)
Write down blog posts on each Saturday in my planner with my other deadlines so I remember to get them done.
Write down any birthdays with my other deadlines so that I know to prepare for them.
And then here is how I plan my day:
The planner I use has a schedule side and a to-do list side. I write my schedule out first, checking my calendar for anything unusual and then filling in my daily routine of classes and activities. I also fill in the times I'll use to get ready, do devotions, eat, sleep, etc. Whatever time is left is my "to-do" time, at which point I'll refer to the to-do list on the other side of the page.
Next I make my to-do list. I start by looking an entire month ahead at all of the deadlines I have coming up, and making note of what I need to get done or start working on so that I can get it done by the deadline/due date. I like to work on things in several sittings, usually, rather than getting it all done the night before. Some people might work better in one sitting, so figure out what works for you!
Once I have all of those urgent to-dos written down, if I still think I'll have time accomplish more, I add household tasks that need to get done like laundry and cleaning. Then I go to my Powersheets and pull things from there until I have a list that fits the timeframe that I have that day.
Here's an example of what a typical day will look like:
And that's pretty much it! Sometimes I'll put stars next to the top three things I need to get done, but I don't always do that. It's honestly not a complicated system but it requires diligence to stick to the schedule and the list each day, and careful thought about what my priorities are and how I'm going to use my time.
Time management is actually one of my favorite things to talk about, so let me know if you have other questions or want to see more on this, or even want to hear more about the philosophy of time management from a Christian perspective! I know my posts have been getting more practical and less spiritual lately, but there's still plenty of spiritual content coming. I wanted this series to be helpful in a variety of areas for people who are going to college soon, so stay tuned for more of both practical and spiritual advice, and share in the comments how you manage your time!
—
love, grace