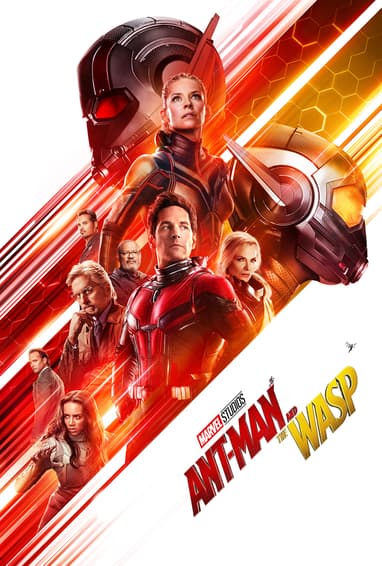 Ant-Man and the Wasp (2018) 
My Rating: 3 stars
Age Suggestion: 13+
About the Movie
Directed by Peyton Reed
PG-13, 2 hours 5 minutes
As Scott Lang balances being both a Super Hero and a father, Hope van Dyne and Dr. Hank Pym present an urgent new mission that finds the Ant-Man fighting alongside The Wasp to uncover secrets from their past. (from IMDb)
My Thoughts
This movie, to me, was entertaining and had some good elements, but overall wasn't anything special. The stream of Marvel movies coming out in the last few years has become increasingly predictable and repetitive, and Ant-Man and the Wasp was no exception.
Paul Rudd, of course, was excellent. Abby Ryder Fortson (who plays his daughter) is also really good, especially for a child actress; her parts never feel overly cheesy and she fits right in with the rest of the cast.
The villains were lacking, however. There are several different "antagonistic" characters throughout the movie, which meant that most of them weren't given the screen-time or development they needed to go from cookie-cutter to complex. But even the main villain character, despite the way the movie focused on her and gave her a backstory, felt like she had been recycled from every other movie Marvel has made. There was nothing unique about her, or her character arc. Honestly, I think the movie could have been better if her storyline had been taken out completely. There would have been more room for the family dynamics and funny shenanigans that made the first movie so memorable.
Speaking of shenanigans, I will always love Luis and his buddies. Their scenes were almost as funny as the first movie, and I just wish there had been more of them.
I also appreciated that the action sequences were not monotonous or overly drawn-out, which is a hard feat to accomplish.
(This is pretty mild for a Marvel movie. There's some mild swearing and a brief imagined scene of intense kissing, but the action sequences are relatively tame unless you're bothered by the quantum-physics elements.)
Overall, I felt that the biggest problem was that the movie lacked theme, making it cookie-cutter entertainment with no point. Dr. Pym is not a heroic figure; he is selfish and absorbed in his own goals, no matter what that means for the people around him. But this is never commented on, and we're expected to continue rooting for him as the "good guy" even when we can almost sympathize with the villains more.
There was so much room in the movie for an exploration of when it's okay to break the law for the greater good, and when it isn't; the value of a single life; the purpose of a hero; and much more. Yet that was barely touched. I got action, humor, and emotion…all of the ingredients that should make for a good movie. Yet it ended up feeling shallow.
I crave movies that make me think, that are deep and purposeful, or that tug on my emotions in a meaningful way. This one, while fun, just didn't deliver.
What do you think? Have you seen Ant-Man and the Wasp? If so, do you agree with my opinion? What are some of your favorite movies that are entertaining while offering deep themes? 
—
love, grace