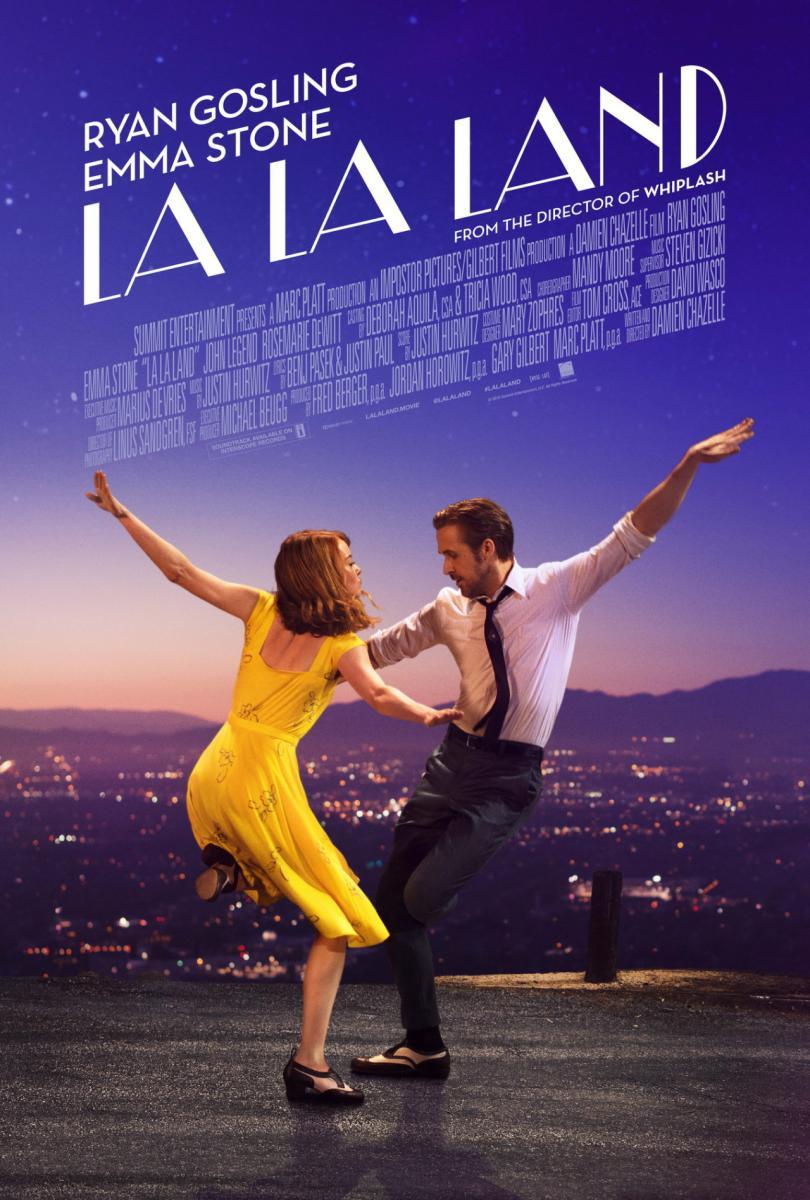 La La Land (2016)
My Rating: Three and a half stars
Age Suggestion: 14+
The Movie
Two proper L.A. dreamers, a suavely charming soft-spoken jazz pianist and a brilliant vivacious playwright, while waiting for their big break, attempt to reconcile aspirations and relationship in a magical old-school romance. (from IMDB)
Starring Ryan Gosling, Emma Stone
Rated PG-13
My Thoughts
This movie, while not flawless, was sweet and entertaining and right up my alley. The plot, though simple, is a time-honored story of artists seeking to "make it" in the big bad world of performing, and succeeds at bringing a kind of old-Hollywood glam into the modern world. I wasn't always sold on the more out-there musical sequences (it works in Singin' in the Rain, but you can only ask a modern audience to take suspension of disbelief so far), but somehow they still pulled off an updated but thoroughly classic musical movie.
I have to say, I'm not a fan of Ryan Gosling's singing voice. I think he did great in the role overall, but his voice wasn't good enough to really carry an entire musical. I didn't really like Emma Stone's, either, until she sang "Fools Who Dream". Then it seemed like she just came out of her shell completely and I couldn't have asked for a better singer. If only she could have sung like that the whole time…
(the one time I didn't mind their voices was when they were singing "City of Stars" together in their apartment. It's realistic that a couple just hanging out and singing together aren't necessarily going to sound Broadway-ready, and it actually made the scene sweeter.)
But the music overall is great! The songs are well-written and beautiful and I love the instrumental soundtrack.
My one big problem with the movie is somewhat of a spoiler. So if you haven't seen it and you don't want me to spoil the end, skip past this next part.
SPOILERS BEGIN
Here's what I hate:
Two people fall in love. For various reasons they have to part ways. Years later, one or both of them is married. The girl's husband is played up as kind of a fool, or at best just mediocre. Then the lovers run into each other again. They can never be together now, but it's obvious that they still care about each other. The girl doesn't seem to really care about her husband at all.
Regardless of how good a book or movie is, if it has this plotline in it, I don't like it. Because if you marry someone it hopefully means you love them enough to forget about other people you may have loved in the past. Plus, whether you love your husband or not, it's just not okay for you to fantasize about a previous lover once you're married. And why do they always have to make the husband seem so mediocre next to the other guy? It's possible that she married another really great guy!
Ahem. Rant over. I loved the rest of the movie, I just really don't appreciate that it ended this way.
SPOILERS END
*Content Warnings*
Like I said above, this movie is pretty clean as far as romance goes. The two main characters do end up living together outside of marriage, but what we see never goes beyond kissing.
The biggest reason I recommend this for ages 14 and up is because there is quite a bit of language, mostly mild, but with a few very bad words. So it really depends what you're comfortable with, personally. I don't mind a little bit of language, as long as it's not constant, but if you're really bothered by it you might not want to watch this movie.
Quibbles aside, I really did enjoy this movie. It's rare to have such a clean, old-fashioned romance movie these days, and so I would definitely recommend it if you like romance but can't conscientiously watch a lot of today's rom-coms and chick flicks. It isn't really a comedy, but it made me laugh out loud several times, while still having serious and beautiful moments as well. And for someone who loves musicals, it was just the perfect, sweet movie for a comfy summer night.
What do you think? Have you seen La La Land? If so, did you like it? If not, will you watch it now? Tell me in the comments! 
—
love, grace
Read more:
Book and Movie of the Year 2016