I know many of you who follow my blog are avid readers, with stacks and piles of books waiting to be read. I am, too. I love books and reading is one of my favorite leisure activities.
But once school starts, our time slowly slips away from us and we find ourselves reading less and less. What can we do to ensure that even during the school year, when life gets busy, we are still enjoying great books on a regular basis?
I have four tips for you:
1. Take a book with you to school every day.
This may not apply to those of you who are homeschooled, but it's the single tip that has made the most difference for me. I carry the book that I'm currently reading in my backpack every single day – it's a daily essential just as much as my planner is.
Because there's so much downtime in public school classes, and because I'm a pretty fast test-taker, I get a lot of reading done in little bits and pieces throughout the day. Between classes, after a quiz or test, on the bus, during study hall if you don't have anything else to do…all of that is valuable time perfect for pulling out a book.
2. Set aside particular times in your weekly routine to read.
During the school year, spontaneously picking up a book in your "free time" usually isn't going to happen (mostly because that free time doesn't really exist). But if you structure longer chunks of reading time into your week, you'll make steady progress. For me, this is usually weekends, especially Sundays. But whether it's every evening before bed or for three hours on Saturday afternoon, plan some regular time into your schedule when you can consistently get some reading in.
3. Listen to audiobooks.
To be honest, I really prefer print books. There's something about holding a book in your hand that just can't be replaced. But if you're an auditory learner, or you're literally always on the go and can't find time to read anywhere in your schedule, audiobooks might be a good option. You can listen to them while you're driving, working out, doing chores, walking your dog, and more; it's a great way to get through the books you want to read while still getting other things done as well.
Using audiobooks for school reading while multitasking can be a great way to save time too. (Even consider putting them on double-speed to save even more time!) You can then use the time that you would have spent reading school books to do other things (like reading for fun, maybe…?).
4. Choose books that you can't put down.
Finally, make sure you are reading books that pull you in, books that you will voluntarily choose over social media and all those other time-wasting activities. If forcing yourself to read Charles Dickens is going to mean you never actually read at all, then don't try to read Charles Dickens during the school year! Maybe do that over the summer instead.
If you like classics, by all means read classics. But if you just need to read light, fun books to take a break from schoolwork, that's totally fine too.
Here are a few of my favorite lighter reads to get you started (if you want more details about any of these feel free to leave a comment!).
Paper Crowns by Mirriam Neal (fantasy, fairy tale; be sure to enter the giveaway for a copy of this if you haven't!)
The Lunar Chronicles and Heartless by Marissa Meyer (sci-fi/dystopian, fantasy, fairy tale retellings; some intense scenes/violence and mostly clean romance)
The Penderwicks and sequels by Jeanne Birdsall (contemporary, family)
 Vinegar Girl by Anne Tyler (contemporary, clean romance; maybe some language, I don't remember)
 Interrupted by Rachel Coker (historical, clean romance, Christian)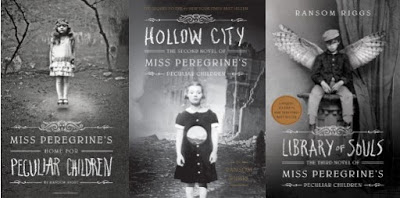 Miss Peregrine's Home for Peculiar Children and sequels by Ransom Riggs (fantasy/weird sort of historical; some language and intensity)
 The Dragon King trilogy by Stephen Lawhead (epic fantasy, adventure; some scary scenes/violence)
 The Mitford series by Jan Karon (contemporary, family, Christian)
What do you think? How do you make time to read during the year? Have you read any of the books I recommended, and what others would you recommend? Share in the comments! 
—
love, grace