If there is one holiday that has tons of nostalgia surrounding it, it's Christmas. Everyone has childhood traditions that have been part of their holiday season as long as they can remember, that provide continuity from year to year in the midst of growing up and going through changes in life. Christmas is a time to return to childhood, no matter how old we are.
This week, I want to continue the 'Christmas favorites' theme, taking a foray into the past and sharing three little pieces of Christmas that have been staples of my holiday season as long as I can remember. These are things that were huge parts of my childhood, that I still enjoy around Christmastime, and that I consider timeless, classic, and enjoyable for all ages.
Carpenters Christmas Portrait
My family has listened to this album over and over on repeat every Christmas as long as I have been alive…first on tape, then CD :). It is such a classic! Not to mention it has so much nostalgia mixed in for me that it is always one of the first Christmas albums that I want to listen to at the beginning of the season. When I hear it the first time, I know Christmas has really arrived.
If you haven't ever heard this album, you must listen to it! Classic Christmas at its finest.
Noelle of the Nutcracker by Pamela Jane
I got this book one year as a child and loved it immediately, and have read it every year since and read it aloud to both of my younger sisters. I don't know what it is about it that makes me love it so much, but I do, and it's as much a tradition for me as anything else that my family does.
If you're a teen or adult, you can probably read it in one sitting, which is all the more reason you should pick it up; it would also make a great gift for any younger siblings or cousins, etc. who are bookworms (or dancers!). Probably my favorite holiday book of all time!
The Nutcracker (American Ballet Theatre and Mikhail Baryshnikov)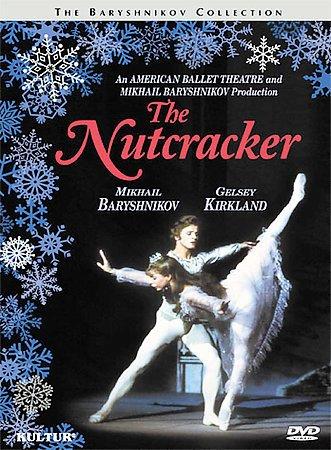 Okay…if I'm being honest, when I was a child I watched this year-round, not just at Christmas. But I'm including it here because it was such a part of my childhood and is technically Christmas-related.
It was probably the first ballet I ever saw, and could probably be credited with making me want to dance, which makes it even more special. Plus, Baryshnikov and Kirkland are such an incredible pair! There are other versions of the Nutcracker that I like just as well now, but none of them have the nostalgia of this one.
These three things all hold very special meaning for me, and they would also all be wonderful even without the nostalgia! I highly recommend them to all ages; they would be good for kids, teens, or adults to enjoy, or for families to enjoy together.
What are some of your most nostalgic Christmas favorites? Share in the comments! 
—
love, grace
Coming soon: Advent reflections from The Greatest Gift by Ann Voskamp (posts during the week next week since I'm on break from school!)